The Series
After a somewhat rocky, but still successful launch in Spring 1999, Matt Groening's and David X. Cohen's Futurama was able to go into the second season in Autumn of that year. Of the thirteen episodes produced in the beginning, the first nine had been broadcast as a test balloon from March until May, so the second series was able to start in September with the four leftover episodes. This time, the producers were able to convince Fox to put Futurama back into its original timeslot on Sunday evening, airing right after The Simpsons and before The X-Files - to the great relief of Matt Groening and David X. Cohen, who still had to fight a constant battle with Fox over their series.

With the start of the second production season, the authors, whose small team had been supplemented with only a handful of new people, began to get even more creative and experimental than before. While the first season was mainly used to establish the basics, the adventures of the interplanetary delivery boy Fry and his co-workers from Planet Express were now literally taking off properly. The focus was not on the typical delivery/monster-of-the-week scheme, but on character and scenery development, encompassing everything from everyday life in the future, fully earthbound adventure and fantastic trips to alien planets.

Space Adventures, Christmas Stories and Political Satire

The second series was still pretty busy to establish and expand new background scenarios. The first episode, I Second that Emotion, already digs down into the previously only seldom-seen underworld of New New York, whose inhabitants appear for the first time: the mutants, who do not match the typical horror clichιs at all. They were not meant as a quick throwaway gag, but became a permanent part of the Futurama universe and part of the overall mythology of the series. Science-fiction wise, there was also a lot of new development. The space organisation DOOP - short for Democratic Order Of Planets - was introduced in Brannigan, Begin Again and Zapp Brannigan himself has several appearances, always with his long-suffering assistant Kif Kroker at his side, who had not yet begun his romance with Amy Wong yet. The series also visits a completely alien planet for the first time by going to Dr. Zoidberg's birthplace in Why Must I Be A Crustacean In Love and there is also a story about a full-blown interplanetary war with many references to MASH, Starship Troopers and even Dr Strangelove in the episode War is the H Word.

Although the episodes were produced several months in advance of their broadcast, the Futurama producers were able to time the airdates extraordinarily well to refer to current events. The last episode shown in 1999 was Xmas Story, having fun with the holiday customs of the 30. century, while the series also took advantage of the American presidential elections of 2000, parodying not only the campaign and the voting behaviour, but also the whole US electoral system. In an uncannily eerie way, Matt Groening and David X. Cohen had foreshadowed the troubled election of George W. Bush, even though the episode A Head in the Polls was created months in advantage and reportedly no last-minute changes were made for the broadcast. It was actually aired on December 12th, the very day of the supreme court decision that stopped the vote recounts and made Bush president, even though Al Gore had won the popular vote. In Futurama though, it was none other than Richard Nixon as a head-in-a-jar who won the election only by one vote, making him an ideal platform for political humour for basically the rest of the series.

Humans, Robots and Aliens

Almost all of the main characters had a story for themselves in the second series and much emphasis was put on the evolution of their personalities. Fry, Leela and Bender were still the main protagonists, but Professor Farnsworth, Amy Wong, Hermes Conrad and Dr. Zoidberg were not neglected and with Cubert, the young clone of the Professor, a new regular character, was introduced for the first time. Season two also featured the first appearance of the Robot Mafia in Bender gets Made, whose three members Donbot, Joey and Clamps became a mainstay often involved in Bender's stories. The alcohol-fueled robot of the Planet Express Crew receives an emotion chip in I Second that Emotion, tried to be a robot wrestler in Raging Bender, has an encounter with his almost-twin Flexo in Lesser of two Evils and is haunted by a were-car when he accepts his uncle Vladimir's inheritance in The Honking - he seems to be one of the most favourite characters of the authors in this season.

The former and future delivery boy Fry was, of course, present in almost every episode and as a man of the past almost has something to do in the background. He also got two of his own stories for himself, getting into trouble with a valentine's affair with Amy Wong in Put Your Head On My Shoulder and his former 20th century girlfriend Michelle unexpectedly arrived in the future in the same way he did himself in The Cyronic Woman. Leela also has some relationship trouble until she meets another one-eyed man, who sadly does not turn out to be what he claims to be in the brilliand Married... with Children parody of A Bicyclops Built For Two. The special relationship between Leela and Fry had only been hinted at yet, but it is clear that they both seem to be infatuated with each other. Professor Farnsworth gleefully maintains his reputation as a slightly mad scientist and continues to be an essential part of almost all stories, although only one revolves solely around him when he ruminates about his own mortailty and, to the disappointment of Fry, creates a clone of himself in A Clone of my Own.

Nice Co-Workers and Nasty Competition

Despite some trouble between them, the trio of Fry, Leela and Bender was still one of the favourite combinations for the authors. The concept of the "delivery of the week" was fortunately less and less used and similarly to The Simpsons, where Homer only rarely seems to go to work anymore, Planet Express itself was pushed more into the background. Nevertheless the interplanetary delivery crew was able to have some adventures and by accident cause a fast food revolution and an interplanetary war with some old acquaintances in The Problem with Popplers, has a fantastic underwater adventure on a company fishing trip in The Deep South and were even being (temporarily) fired at the end of the series in The Cyronic Woman, turning them into jobseekers once again.

Hermes Conrad continued to be the omnipresent organizer behind the scenes of Planet Express, but for the first time he was given a full episode about himself and the everyday bureaucracy madness of the future with How Hermes Requisitioned His Groove Back. Amy Wong, the Professor's clumsy assistant-intern, did not get a complete episode for herself that time and had to share Put Your Head On My Shoulder, an unusual valentine's day love story, with Fry - in return, she is present in a lot of other stories as a secondary character. Notably absent are her parents Leo and Inez, who only appear again in the next season. Mom, head of the robot empire business, had a great comeback in a story telling about her joint past with Professor Farnsworth in Mother's Day, which showed the full scope of her powers for the first time.

Madcap Adventures

Another old tradition was revived - The Simpsons have the Treehouse of Horror Halloween specials, Futurama was given the Anthology of Interest: a collection of three short stories outside of the usual universe, framed by a special story involving a new invention of Professor Farnsworth called the What-If-Machine. This simple plot device allowed the authors to let their imagination roam even more freely than usual and create ideas which would not have worked even in the already somewhat crazy Futurama universe. The What-If-Machine allowed for some amazing hypothetical scenarios in this series, thinking about what would happen if Bender was a giant, Leela was more impulsive and if Fry had never arrived in the future.

Overall, the authors covered a broad spectrum of themes in the second season and really went where no other animated series had gone before. Conventional television series concepts were turned upside down, but in principle Futurama was still just a sitcom happening in an unusual environment. The science-fiction aspects were turned down a little bit in the second season after complaints from Fox that the series was supposedly too geeky, but that actually never seemed to stop the authors to be as subversive and nerdy as possible. The art of telling a complete story in only twenty minutes had been even further refined after more than a decade experience with The Simpsons and the narrative only stumbles a little bit on a few occasions.

Space Actors

Of course, Futurama does not only come to live with the help of crazy stories and elaborate animation, but also with the voices of the characters, for which Matt Groening and David X. Cohen had already assembled a unique cast of remarkable voice acrobats in the first season. After trying out several approaches in the earlier episodes, Billy West, John DiMaggio, Katey Sagal, Tress MacNeille, Phil LaMarr, Lauren Tom, Maurice LaMarche and David Hermann had now found exactly the right voices for their numerous characters and the actors not only proved to be wonderful comedians, but also brought a lot of depth to their roles, making them all the more human (and alien, in some cases).

Guest stars were still comparatively rare in the second season of Futurama, but the producers were still able to find some more actors to join the regular cast, who mostly played characters and not themselves. John Goodman had his first and only appearance as Robot Santa in Xmas Story, a role which was later taken over by John DiMaggio, Saturday Night Live comedian Nora Dunn played a serious bureaucrat in How Hermes Requisitioned His Groove Back and actress Parker Posey took the part of a mermaid in The Deep South. Radio comedian Phil Hendrie appeared for the first time as a member of the mysterious Waterfall family in The Problem with Popplers and standup-comic Sarah Silverman gives Fry's now-and-then girlfriend Michelle a new voice in her extended role in The Cyronic Woman.

There were, however, still a number of guest stars in the original sense, playing themselves: Ex-supemodel Claudia Schiffer has a short cameo in A Head in the Polls, former Simpsons author and later talkmaster Conan O'Brien makes a short appearance in Xmas Story and gameshow host Bob Barker pops up briefly in The Lesser of Two Evils. Rich Little, himself an accomplished voice actor, also appears briefly in Raging Bender and Pauly Shore has a little bit part in The Cyronic Woman. All those cameos have one thing in common: they are very self-ironic and the actors do not take themselves very seriously at all. Folk musician Donovan, however, even took the time to record a new introduction to his old classic Atlantis for The Deep South and for the third part of the Anthology of Interest, the Futurama producers were able to get their dream cast together, if only for a mini-episode: Al Gore (who must still have been vice-president when he recorded his part), Dungeons & Dragons inventor Gary Gygax, Physicist Stephen Hawking and Star Trek actress Nichelle Nichols all recorded parts for the short story.

Where No Pen has Gone Before

The animation had already been much more advanced than The Simpsons in the first season, but there was still a lot of room for improvement in the new episodes. Especially 3D sequences were now used much more often and made a lot of impressive scenery possible without sacrificing the traditional 2D drawing style at all. Not only elaborate space scenes, lovingly choreographed from their role models like Star Trek and Star Wars were created, but also almost ordinary views like a speedy 3D flythrough of the Planet Express building and many other sequences, which are often not even distinguishable as computer animation because they look absolutely hand drawn.

Musically, not that much had changed compared to the first season, because Christopher Tyng's retro-modern title theme was of course used again and the distintive style of his background and interstitial music was also retained. With a successful mix of futuristic synthesizer rhythms and a classic orchestra score Futurama had a remarkable soundtrack to offer especially for an animated television series and was every bit as good as Alf Clausen's score for The Simpsons. Even the old tradition of a song-and-dance sequence was not forgotten and congenially realised through a literally grooving calypso song in the aptly named episode How Hermes Requisitioned His Groove Back.

The Continuing Adventures of Planet Express

The is actually not that much of a difference between the first and second production series of Futurama, because there was no sudden jump, but more a gradual expansion and improvement noticeable in each episode. With the beginning of the second broadcast season in the Autumn of 1999, still continuing with a few leftover episodes from the first production run, Futurama had suddenly become a phenomenon instead of just a curiosity. After the timeslot had been finally permanently moved to Sunday evenings between The Simpsons and The X-Files, the ratings suddenly dramatically increased again together with the popularity of the show. While Futurama had finally found the fan base it deserved,

Fox Television were maybe the only ones that Matt Groening and David X. Cohen never managed to fully satisfy and convince. At least Fox had given Futurama a big chance with the second season, which was successfully used to bring the series out of the shadow of its sister program The Simpsons. Season two was when Futurama hit its stride, but the best was yet to come.


The Episodes
I Second that Emotion - Bender gets upgraded with an emotion chip invented by Professor Farnsworth because he flushed Leela's pet Nibbler down the toilet. While Leela slowly recovers from the shock, her feelings are transmitted to Bender, who is so wracked by guilt that he flushes himself bit by bit down the sewer to go look for Nibbler...
Brannigan Begin Again - Zapp Brannigan destroys the new space station headquarters of the spaceflight organisation DOOP during its inauguration festivities with one of his ego stunts and is fired from the fleet together with his assistant Kif. Without job or money, their last resort is to get jobs at Planet Express - but on their first delivery, Zapp already instigates a mutiny...
A Head in the Polls - When titanium prices suddenly rise, Bender sells his 40% titanium body and just gets around with his head and a bunch of money. But suddenly, his body appears again where he least expects is: beneath the head of presidential candidate Richard Nixon, who has figured out that he is eligible even as a head-in-a-jar if he has a body.
Xmas Story - Fry celebrates his first Christmas holiday in the 31st century and is looking for a perfect present for Leela - but he is unaware of the dangerous Robot Santa, who wanders the streets of New New York on Christmas Eve, classifying everyone as naughty...
Why Must I Be a Crustacean in Love? - Dr. Zoidberg suddenly runs amok because mating season for his species is coming. The whole crew accompanies him to his home planet, but it turns out that he is not a big hit with the crustacean ladies.
The Lesser of Two Evils - The Planet Express crew meets Flexo, a robot who looks exactly like bender save for a small difference. It looks like an opportunity for a perfect crime, but who of the two robots is the real crook?
Put Your Head on My Shoulder - A valentine's day affair between Amy and Fry is getting very weird when Fry is so heavily injured in a car accident that Dr. Zoidberg has to transplant his head on Amy's shoulder temporarily...
Raging Bender - Bender has a fight with another robot, who he accidentally knocks out and discovers to his astonishment that he decked a professional robo-wrestler. Bender becomes the new star of the robo wrestling scene, but soon he discovers that it's not a fair sport after all...
A Bicyclops Built for Two - During an excursion into the internet, to which Professor Farnsworth finally manages to log on, Leela meets a strange one-eyed man, who could solve the mystery of her origin. She lets herself be enchanted by him, but Fry and Bender are not quite convinced...
A Clone of My Own - Professor Farnsworth is depressed because of his advanced age and worries about a successor. He does not choose Fry, but a clone he created himself - but Cubert is not really interested in the work of the Professor...
How Hermes Requisitioned His Groove Back - Hermes is being inspected by Central Bureaucracy, but the consequences of an illicit poker game have wrecked his office so badly, that Inspector Morgan Proctor sends him off on a compulsory holiday and she herself takes over. But the bureaucrat is not all what she seems to be...
The Deep South - The Planet Express crew goes onto a little fishing trip on which the whole spaceship is accidentally pulled underwater by a colossal fish. While looking for some dinner while the ship is being repaired, Fry encounters a mermaid, but his co-workers think he lost his mind...
Bender Gets Made - Because they are not able to pay a restaurant bill forced upon them, the Planet Express crew almost goes to jail if it would not have been for Bender, who offers himself as a kitchen help for Chef Elzar. There he attracts the attention of the Robot Mafia, who like him so much that they make him a member - but his first job is a robbery on a Planet Express delivery...
Mother's Day - Mom's friendly robots are not so friendly anymore when the company matriarch lets them rebell via remote control on her own holiday. Only Professor Farnsworth can prevent the machines taking over the world with his secret past...
The Problem with Popplers - During an especially long delivery trip, Fry, Bender and Leela are suddenly out of food and look for some provisions on a planet. There they find a crunchy delicacy who they call Popplers and sell on the Earth quite successfully - until some unexpected visitors arrive...
Anthology of Interest I - With the help of Professor Farnsworth's What-If Machine the crew finds out what might happen if Bender was 500 feet tall, Leela was more impulsive and Fry never arrived in the future.
War Is the H-Word - Fry and Bender sign up with the Army to get a discount for buying bubble gum and resign immediately - but right at this moment, war is declared and they are being drafted. Leela is very concerned about her friends and smuggles herself among the troops led by Zapp Brannigan...
The Honking - Bender gets word that his Uncle Vladimir has died and travels with his friends to the Robo-Hungarian Empire for the reading of the will. To his surprise, he inherits the castle of his uncle, but has to spend a night in the supposedly haunted walls...
The Cyronic Woman - Leela accidentially leaves the key in the spaceship's ignition, causing Fry and Bender to go on a joyride which damages the Planet Express headquarters so much that Professor Farnsworth fires them. Leela re-implants the old career chips into herself and Fry, but mixes them up so that she gets to deliver pizzas while Fry and Bender work in the cyrogenic lab. There, Fry discovers that his former girlfriend Michelle has frozen herself too...



The DVD
After the first Futurama season was released in Europe on DVD in early 2002, the second season took another half year to arrive - but when it did in November 2002, it was still long before the American DVDs, which had not even been announced at this point. The second boxset again contains the episodes sorted by production seasons, so that there are 19 altogether of which the last three were actually broadcast at the beginning of the third television series.

The boxset reviewed in this article is the German edition, which is completely identical to the British release save for the additional German soundtracks. There are some slight problems with the image quality, but otherwise the boxset was able to convince with great content and entertaining extras. Like the first season, no digipack was used and instead the four discs come in single cases housed in a sturdy cardboard slipcase with a plastic cover. This may not look as fancy as The Simpsons releases of that time, but the large-format, playful artwork on the packaging seems even more fun. The 2012 re-release seems to use the same discs, only in a different packaging.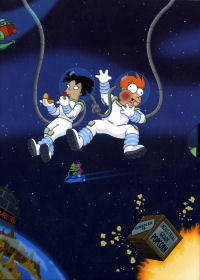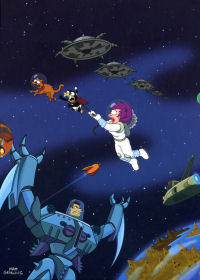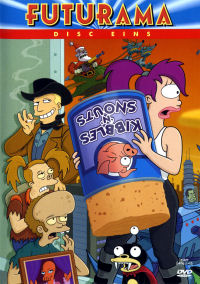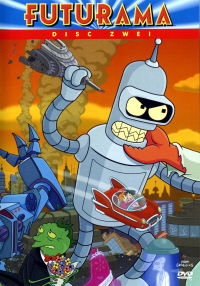 Bonusmaterial
The bonus materials of the second Futurama boxset are comprised of an old-established mix of audio commentaries, animatics, deleted scenes and photo galleries. At first glance, it does not look like much, but the audio commentaries make documentaries and other material completely superfluous. The menu design was heavily improved over the first season - each disc has its own style and each episode submenu has its own variation, so that there is a lot to discover and explore.

All episodes feature Audio Commentaries with Matt Groening, David X. Cohen, the respective authors or directors of an episode and sometimes actors John DiMaggio or Billy West. In the first line, those commentary tracks are very entertaining to listen to, but also contain a lot of information. Longer silent gaps sometimes occurring in the first season are now less apparent and while there is much laughter, fun and telling anecdotes, the really interesting things about the making of the series are not ignored at all. The commentary tracks easily double the runtime of these DVDs because watching the episodes twice is almost a must.

The further extras have been spread over all four discs. There are lots of interesting deleted scenes, which are mostly just short, but extremely funny bits. Most of it was obviously cut for timing, but you have to hand it to the producers for having dug out the material a couple of years after the episodes were produced. The quality is acceptable, but sometimes all that was left seem to be VHS work copies, making a re-integration into the episodes difficult.

Disc 1

The complete animatic of the episode Why Must I Be A Crustacean In Love? (20:49) is not only interesting because of its rough animation, but also because of some differences in the dialogue.

There are also Deleted Scenes of the following episodes on this disc:
• I Second that Emotion (0:21)
• Brannigan Begin Again (3 scenes, 1:18)
• A Head in the Polls (0:17)
• XMas Story (5 scenes, 1:39)
• Why must I be a Crustacean in Love (2 scenes, 0:32)

Disc 2

The Image Gallery contains over a hundred Storyboards from the complete episode A Bicyclops built for Two, digitized in good quality, but unfortunately still not large enough to see all the details.

Deleted Scenes are available from all five episodes on this disc:
• The Lesser of two Evils (0:12)
• Put your Head on my Shoulder (0:19)
• Raging Bender (2 scenes, 0:55),
• A Bicyclops Built for Two (3 scenes, 1:09)
• A Clone of my Own (3 scenes, 1:28)

Disc 3

This disc contains only Deleted Scenes for the following episodes:
• The Deep South (0:21)
• Bender gets Made (0:21)
• The Problem with Popplers (0:15)

Disc 4

A second image gallery has 40 very interesting Concept Drawings and another screen contains a guide to the Alien Alphabet that is used in many episodes. There are also four short Alien Advertisements, which were used in front of some episodes.

The following episodes have Deleted Scenes on this disc:
• The Honking (3 scenes, 1:03)
• The Cyronic Woman (2 scenes, 0:46)

International Clips has a short excerpt from I Second That Emotion (0:38) presented in French, Italian, Portugese and Spanish, showing how badly some of the voices have been chosen.