The Series
Matt Groening's big experiment to establish another animated series next to The Simpsons in his very special style had made a good start with the science fiction sitcom Futurama. The first nine episodes, broadcast in Spring 1999 and the second season shown the following autumn were able to position the series quite well on the American television market, but the ratings unfortunately stayed below the expectations. The second series had been moved back to the favourable Sunday evening timeslot, but was often broadcast at 7pm instead of the coveted half past eight time.

Future-Trouble

This banishment from the prime time block starting at 8pm did not only cause a noticeable drop in viewers, but also led to the show being often pre-empted by sports events and other programs. While this was not yet very noticeable during the second broadcast season with twenty shown episodes, it rose to absurd heights during the third season. With the start of the television season 2000/2001 Fox had only broadcast the three remaining episodes from the second production series until the end of the year, creating a long gap from December 3 to January 21, during which nothing or only reruns were shown.

Even at the beginning of 2001, Fox simply refused to be nice to Futurama and neglected the series so much that only fifteen episodes were shown as the third broadcast season. The original production order had also been so much jumbled up that from the 22 episodes of the third production season only 12 were shown and the rest was held back for later – in case of one episode, much, much later. While Matt Groening and David X. Cohen were able to get the same artistic licence for Futurama as with The Simpsons, they were unfortunately powerless against the haphazard program planning of Fox.

Futurama in Top Form

Although Futurama was treated worse and worse, the producers still believed in the series and made sure that the bar was set even higher for the third production season. In order to do this, the team of authors of Eric Kaplan, Lewis Morton, Bill Odenkirk, Eric Horsted, Patrick Verrone, J. Stewart Burns and Ken Keeler was fortified with Ron Weiner, Dan Vebber, Jeff Westbrook und Aaron Ehasz and the directors Peter Avanzino, Brian Sheesley, Ron Hughart, Merk Ervin, Bret Haaland, Susie Dietter, Rich Moore and Chris Louden were joined by Swinton O'Scott, James Purdum und Pat Shinagawa. Like previously, most of the newcomers were actually old friends from the Simpsons production team and had worked for a long time with Matt Groening.

In the third production season, the newly reinforced crew especially concentrated on the character development, some of which had already been prepared during the previous episodes, but only now were developed much further. At the same time, more big ensemble stories were created, but the dreaded "delivery of the week" format was nowhere to be seen. The original formula was less and less used and superseded by much more interesting stories going well beyond the scope of an usual animated sitcom. Grand science fiction cinema was a part of it as well as the normal everyday life of the 31st century, because there were some stories which did not even leave Earth and devoted themselves to completely other themes.

The Big Picture

It first became appartent during the third production season that the authors had planned much more than a loose collection of unconnected stories from the very beginning. With the stories of The Day the Earth Stood Stupid and Roswell That Ends Well, the authors intervened for the first time in the continuity of the series and did not only give the existence of Fry a whole new meaning, but also of Leela's "pet" Nibbler. Those surprising plot twists only looked like haphazard makeshift solutions on the first glance, but were really part of a grand plan which was only revealed much later in the history of the series.

As a result, Fry had once again become the main star of the series, who was the center of even more episodes than before. Paradise Lost was not only a successful parody of the science fiction classic Fantastic Voyage and its comedic remake Innerspace, but also expanded the relationship between Fry and Leela even further into one of the most important storylines of the series. For the first time, Luck of the Fryish took a look at Fry's past and the mother of all science fiction parodies Roswell That Ends Well even had a surprising revelation about his origins. As an encore, he also saved mankind from destruction in The Day The Earth Stood Stupid, proving that indeed the whole series really revolves around him. The delivery boy from the past also hds some bad times in Insane in the Mainframe when he was arrested for a robbery and mistakenly classified as a robot, but in return got to spend some quality time with a facsimile of his favourite actress in I Dated A Robot.

The Beauty and the Robot

Leela, the one-eyed, purple-haired captain of Planet Express, was also explored much further in the third season. Her unhappy childhood in an orphanage and her greatest wish just to be normal was the subject of the successful episode The Cyber House Rules, but her unlikely baseball career in A Leela of Her Own seems more like a recycled Simpsons script. In return, she almost always plays an important role in many other episodes and she even becomes a conscientious objector in The Birdbot of Ice-Catraz when she quits her job for the first time. Although Leela does not seem to have any real feelings for Fry yet, she is not completely averse to his affections anymore and the authors seem to work slowly towards the fact that they are both destined for each other.

Bender fully lived up to his reputation and was present in the most episodes so far of any production season, although not all were really successful. The rather embarrassing love story of Bendless Love was thoroughly unconvincing and his gig as a quadriplegic musician in Bendin' was the Wind is completely untypical for Futurama - but those are exceptions, because Bender was also the main character in some of the very best episodes. In the fantastic Christmas episode A Tale of Two Santas Bender walked in the steps of Robot Santa in true Nightmare before Christmas fashion and as the Birdbot of Ice-Catraz he paid for his unscrupulousness with a transformation into an artificial penguin. A Pharaoh to Remember turned him into the tyrant of a desert planet with ambitions for eternity and Goodfellas let him philosophise about his loneliness in the emptiness of space and watch over a miniature civilization. The third production season even ended with the great Bender story The 30% Iron Chef, in which the robot wants to improve his cooking skills even if it means to leave his friends of the Planet Express crew.

To Go Where No One Has Delivered Before

Even though the delivery business was hardly the center of the series anymore, the 'Adventures of Planet Express' were still an occasion for quite a few stories. Future Stock was the first episode for a long time dealing with the company itself and gave some of the minor characters larger roles. Among them were the company accountant and professional bureaucrat Hermes Conrad, the seldom seen janitor Scruffy and even the crazy cat lady Hattie, who had briefly appeared in a couple of episodes before. The main character of this episode was, however, a shady businessman just named That Guy, one of the few one-episode characters of the series that never returned.

Futurama would not have been Futurama if Fry's favourite great-nephew and Planet Express founder would not have made a few appearances. Professor Farnsworth was not only a crotchety, doddering old fool like in Future Stock, but also lived up to his reputation as a slightly mad, but overall competent scientist practising high mathematics and physics in Time Keeps on Slipping with basketball playing aliens. For the first time, there's also an episode about the next generation in the shape of the Professors young clone Cubert and Hermes Conrad's son Dwight in The Route of All Evil, who want to prove that they can do better business than their parents by opening their own delivery company.

Of course Hubert Farnsworth's nemesis Mom also has her traditional big appearance in season three, this time a bit more dramatic and extensive: Mom goes for the jugular and tries to take over Planet Express in Future Stock when the Professor is catapulted out of his own company by a wallstreet yuppie. This was a perfect chance for the authors to create another legendary appearance by the only real antagonist of the series - and also mesh the story with a brilliant satire about the stock market and the economy.

Captains, Lieutenants, Interns and Doctors

Also continued in the third production season are the adventures of Zapp Brannigan - it started with the first episode Amazon Women in the Mood, in which his daring nonsense resulted in one of his best and outrageous appearances in the whole series. After that, he did not entirely disappear and popped up as a secondary character in three more episodes. His personal assistant Kif Kroker had meanwhile grown up from a simple running gag to a real character, who had now begun his romance with Amy Wong. While he has to endure the advances of the local giant women in Amazon Women In The Mood together with his boss, he is able to prove himself worthy to his girlfriend's parents in Where The Buggalo Roam.

Amy Wong herself was also often featured as a background character, but only appeard in one story in the main role, the aforementioned Where The Buggalo Roam, which also marked the return of her parents Inez and Leo, who had been completely absent in the second series. Planet Express staff medic Doctor Zoidberg was also integrated into the plots of many episodes, but with That's Lobstertainment he also got one episode all for himself, in which he tries to make his passion for comedy a career with the help of his once famous uncle - of course the Planet Express crew follows him to Hollywood, which gave the authors an opportunity to also give the robotic soap opera star Calculon a bigger role for the first time.

Voices for the Future

Like The Simpsons, Futurama had already been cast with the best voice actors the producers could find and for the new season they all came back to resume their characters, which they had now developed even further from the early days of the series. Billy West, Katey Sagal, John DiMaggio, Tress MacNeille, Phil LaMarr, Maurice LaMarche, Lauren Tom and David Herman all outdid themselves with their numerous different characters again and their contribution to Futurama cannot be understated, since they embody their roles so much that without them they would not exist. In season three, they are joined by animal noise specialist Frank Welker as Nibbler, who also has some real dialogue for the first time, Kath Soucie as Cubert and Dawnn Lewis as Hermes' wife Labarbara.

Although Matt Groening and David X. Cohen had made guest appearances by celebrities quite easy with the Heads-in-Jars technology, guest stars were only sparingly used and most actors were actually hired to voice a specific role and not just to play themselves. This trend had continued in the third production season, where quite a few had joined the regular voice cast for some more diversity.

"Golden Girl" Bea Arthur was the voice of the almighty femputer in Amazon Women in the Mood, while rapper Coolio has a short bit as Kwanza-Bot in the christmas episode A Tale of Two Santas. The role of Fry's brother Yancy in The Luck of the Fryish was not taken by Billy West himself, but was given to comedian Tom Kenny, while Phil Hendrie makes a comeback in The Birdbot of Ice-Catraz as not one, but two members of the Waterfall clan. Sadly, John Goodman as Robot Santa and Dan Castellanetta as the Robot Devil were not able to resume their roles, but they were expertedly taken over by John DiMaggio and Maurice LaMarche. In return, another Simpsons guest joined in - Hank Azaria took the role of Zoidberg's uncle Harold Zoid. For the voice of Bender's girlfriend Angleyne the producers were able to get the former Saturday Night Live comedian Jan Hooks, who also voiced Apus wife Manjula in The Simpsons. The only new character of this season, Hermes' son Dwight, was also not voiced by a regular, but by the very busy voice actor Bumper Robinson.

The actual celebrity guest appearances in the third production season were only a small handful: rock musician Beck talks and sings in Bendin' in the Wind and actress Lucy Liu also appears as herself in I Dated A Robot in a very self-ironic fashion. The sports-themed episode A Leela Of Her Own was also graced with the voices of baseball legends Hank Aaron and Bob Uecker, who were only happy to be a litte bit self-deprecating.

The 3D Future

While the quality of the animation was hard to improve any more since the second production season, the third round surprised even more with innovative new designs. Many episodes went beyond the already known background environments, creating completely new challenges for the animators who rose to the occasion like never before. Almost every episode had a new scenery to show, from strange alien planets to very earthly perspectives and a microscopic look into the human body, mixing traditional 2D animation seamlessly with computer-generated 3D elements. What still looked like a bit of an experiment in early episodes was now much more refined and improved thanks to the experience from the first two seasons. Rough Draft Animation had now found the perfect shape of the Futurama universe, bringing Matt Groening's style to life in a whole new way.

Christopher Tyng was once again responsible for the music in production season three, enhancing his repertoire again with quite a few new styles. The unique title tune was, of course, used once again, but the additional music now had an even more elaborate and surprising sound because in addition to futuristic synthesizer sounds, Tyng had also written lots of orchestral pieces worthy of any big hollywood blockbuster. The traditional musical song-and-dance sequence was a part of the Christmas episode A Tale of Two Santas this time and Bendin' in the Wind had, of course, a couple of pop songs, among them a newly written duet between John DiMaggio as Bender and Beck.

The Beginning of the End?

With the broadcast of the third season, it slowly became apparent that Futurama would not have much of a future anymore. This was not the fault of the series' quality or a lack of popularity, but simply because Fox wanted to sneakily kill off Matt Groening's attempt to break out of the boring programming scheme and try something completely new. This time, the company even went so far as to delay one episode indefinitely because of supposed violence complaints - A Tale Of Two Santas had only been shown more than a year later than originally planned. With the help of an unfavourable timeslot and erratic broadcasts bad ratings were provoked, but as long as the television company still ordered new episodes, the producers did not let this shabby treatment hold them back.

Despite those adverse circumstances, the third production season of Futurama was better than ever and produced some of the most memorable episodes - and also won the first of six Emmys in the history of the series, which was awarded for the amazing time-travel story Roswell That Ends Well. With so many great episodes, it was easy to forgive the producers some not quite so successful stories - but even those were still well above the average American television diet. With the third season, Futurama had already almost lost its fight against Fox, but Matt Groening and David X. Cohen had not quite given up yet.


The Episodes
Amazon Women in the Mood -Thanks to Zapp Brannigan's flying acobatics, a double date of Amy and Kif and Zapp and Leela ends in a crash landing on planet Amazonia, where the four castaways are being captured by the love-hungry native ladies.
Parasites Lost - When Fry eats a nasty sandwich from a truck stop restroom vending machine, a civilisation of tapeworms develops inside of him. When his Planet Express co-workers find out that this might kill him, they rush to the rescue with remote-controlled miniaturized robots - but Fry has become clever, caring and sensitive thanks to his parasites and is able to finally win Leela's love.
A Tale Of Two Santas - Professor Farnsworth sends his crew to Neptune on Christmas to deliver a load of letters to the mad Robot Santa - but Fry, Leela and Bender are determined to end his reign of terror and actually manage to defeat him. Together with the Neptunian natives they want to bring the benevolent Christmas back with Bender as the new Santa...
The Luck of the Fryish - Fry tries to find his lucky seven-leaf clover in the ruins of old New York and finds out astonishing things about his family's past.
The Birdbot of Ice-Catraz -When Professor Farnsworth gives the crew the order to tow an oil tanker, Leela quits her job and becomes an enviromentalist. But Bender, Fry and Dr. Zoidberg crash the tanker and cause an ecological disaster in Neptune's penguin reservation…
Bendless Love - There are suddenly a lot of things curiously bent in the Planet Express headquarters - it turns out Bender is the culprit, randomly reverting to his most basic function in his sleep. Professor Farnsworth kicks him out until he gets his compulsion under control and he gets a job in a bending factory, where he meets not only his evil twin Flexo, but also the robot lady Angelyne, who he heavily falls for….
The Day the Earth Stood Stupid - Flying brains are attacking planet Earth and want to make mankind stupid - but they have not reckoned with Fry, who saves humanity with the help of Leela's pet alien Nibbler, who turns out to be something very different than he pretends to be….
That's Lobstertainment! - Dr. Zoidberg finally wants to prove his comedic abilities and asks his Uncle Zoid, a former film star for advice how to make it in Hollywood. But the impoverished comic thinks his nephew is a rich doctor and a comedy of errors ensues...
The Cyber House Rules - Leela attends an orphanage reunion and meets a former classmate who has become a surgeon. They fall in love and he wants to give Leela a second eye to make her look normal. Meanwhile Bender adopts a lot of children himself to collect the welfare payments, but he has overlooked something…
Where the Buggalo Roam - Amy's parents Inez and Leo host a big party for Mars Day on their ranch, but when the natives of the planet steal the Wong's buggalo herd in a huge sandstorm, the festivities end quickly. But Amy's boyfriend Kif rises to the challenge and sees the possibility to prove himself as a real cowboy in front of her parents.
Insane in the Mainframe - Fry and Bender have been convicted for a bank robbery they have not comitted and are both sent to a robot psychiatry hospital. Bender feels right at home there, but Fry suffers so much that he almost thinks he's a robot himself…
The Route of All Evil - Planet Express gets unexpected competition from its own ranks, when the offsprings of Professor Farnsworth and Hermes open their own delivery business and are soon more successful than their parents. Meanwhile, Fry, Leela and Bender try to brew some beer of their own - in Bender' stomach!
Bendin' in the Wind - After another encounter with the can opener, Bender becomes an invalid, but starts a successful career as a folk musician, becoming a hero of all broken robots… until the unthinkable happens.
Time Keeps on Slippin' - It seems like Earth is being attacked by aliens again, but it's just the Harlem Globetrotters challenging humanity to a basketball game. But Professor Farnsworth can't resist creating a team of galactic supermen, which put the space-time continuum seriously out of whack…
I Dated a Robot -With the help of the internet, Fry fulfills one of his biggest dreams and gets a date with his favourite actress Lucy Liu… in shape of a robot. But soon he and his co-workers find out, where the bot company gets their data from…
A Leela of Her Own - Fry, Leela and Bender try to make a family of emigrated aliens at home in New York, who have opened a pizzeria across from Planet Express. During a joint Blernsball game, Leela is hired as a professional player, much to her own surprise and despite her vision handicap…
A Pharaoh to Remember - Bender is depressed because he fears he will not be remembered in history and not even a wake thrown by his friends can cheer him up. But when the crew is captured and enslaved by the Pharaoh of Osiris 4 during a routine sandstone delivery, Bender sees his chance to achieve immortality…
Anthology of Interest II - Professor Fanrnsworth's What-If-Machine this time answers the three questions what would happen if Bender was a human, life would be like a computer game and Leela would find her true home.
Roswell That Ends Well - During a supernova observation, Fry catapults the Planet Express crew with some irresponsible microwaving back to where everything started: into 1947, where they crash near a certain town called Roswell in New Mexico...
Godfellas - During a pirate attack, Bender has been sleeping in a torpedo tube and is accidentially shot into the vastness of space, unable to be brought back by his friends. But he is not all alone when an asteroid brings a mini civilisation to him...
Future Stock - A banker who has frozen himself in the 1980s takes over Professor Farnsworths company after it has gotten into financial difficulties. He swears that he will get Planet Express shipshape again, but actually has something quite different in mind, which attracts the Professor's biggest enemy...
The 30% Iron Chef - Bender tries to become a better cook at all costs, but always fails because of his nonexistent sense of taste. Depressed, he leaves his friends and the Earth and lands on a planet of the homeless, where he meets a former master chef...
The DVD
The third Futurama DVD Box with the episodes of the third production season had been released in June 2003 in England, while at that time the US had only just gotten the first box set. Europeans were only happy to get another season of Futurama in good quality and with great bonus materials in a 4-disc set, which is still quite good today despite some slight image quality deficits. Like the previous box sets, this one was again housed in four separate keepcases in a sturdy cardboard box with a plastic sleeve, this time with three clear windows to match up with the artwork on the box.

The edition reviewed in this article is the initial British release from Summer 2003, because importing from the UK was the best thing to do since the German release had been delayed for four months and the German dub was absolutely terrible. Apart from the different soundtracks and subtitles, the UK edition is the same as the German release, The DVDs are not sold anymore in this packaging today, but the re-release from 2013 contains exactly the same discs.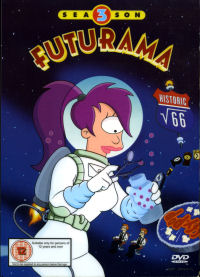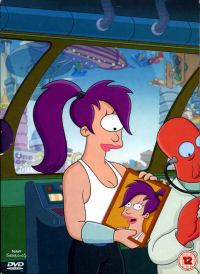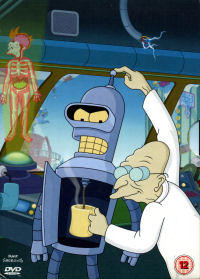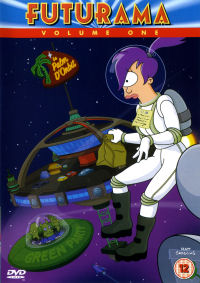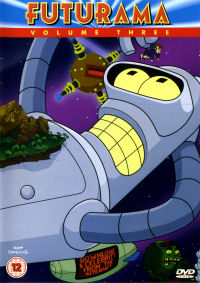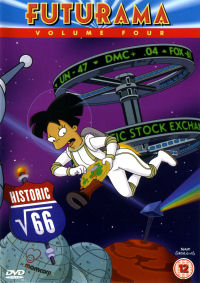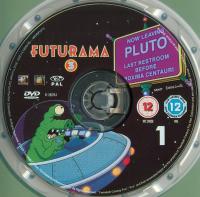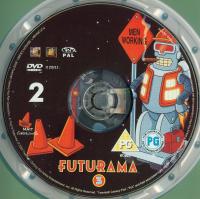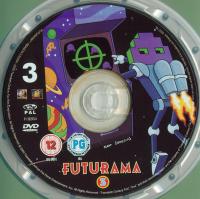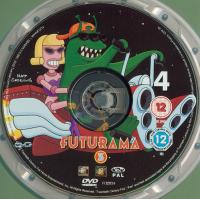 Bonusmaterial
The extras of the third Futurama boxset are again a successful combination of commentary tracks, deleted scenes and a small, but valuable selection of miscellaneous features. The menus are now in 16:9 and have quite a few surprises hidden in their playful design.

The crown jewels of these DVDs are, of course, again the Audio Commentaries, which are available on all 22 episodes. Matt Groening, David X. Cohen, the directors and writers of each episode and sometimes also the voice actors Billy West, John DiMaggio, Tress MacNeille and Maurice LaMarr do the honours this time and have a lot of fun. The episodes themselves and their development history are the main topics, but often one thing leads to the other and then everybody is talking about something completely different - which is absolutely no problem, because this casual and informal way makes these commentaries a lot of fun and every bit as entertaining as the episodes themselves. There are sometimes a few quiet gaps, but those are rarer than in the previous production seasons and are entirely understandable. Sometimes nonsense delightfully takes over and with everybody goofing around it gets a little rowdy - this especially happened on the commentary of Roswell That Ends Well, which has a second, slightly more disciplined bonus track.

All other extras have been spread over the four DVDs - the most important ones are the Deleted Scenes, which are especially numerous in this season. While they are only available in VHS-like quality again, they are absolutely worth watching.

Disc 1

An image gallery contains over 300 pages of Storyboards from the episode Parasites Lost, which are very interesting, but could be a little larger. Everything is clearly visible, but after a couple of pages the size of the images becomes irritating.

Deleted Scenes are available for every episode on this disc:
• Amazon Women in the Mood (3 scenes, 1:26)
• Parasites Lost (4 scenes, 1:48)
• A Tale of two Santas (2 scenes, 0:39)
• The Luck of the Fryish (2 scenes, 0:25)
• The Birdbot of Ice-Catraz (4 scenes, 1:53)
• Bendless Love (5 scenes, 2:13)

Disc 2

The only extras on this disc are Deleted Scenes for the following episodes:
• The Day the Earth stood Stupid (2 scenes, 0:38)
• That's Lobstertainment (1 scenes, 0:32)
• The Cyber House Rules (5 scenes, 1:31)
• Where the Buggalo Roam (1 scenes, 0:20)
• Insane in the Mainframe (3 scenes, 1:11)

Disc 3
This disc also only has Deleted Scenes for the following episodes:
• Time Keeps on Slipping (3 scenes, 0:39)
• A Leela of her Own (1 scene, 0:11)
• A Pharao to Remember (1 scene, 0:14)

Disc 4

For this DVD, Futurama's animation studio Rough Draft has created a couple of 3D model examples as short animated clips incuding a commentary from the animators:
• Mom Corp. Ship (0:34)
• Robot Arms Neighbourhood Backlot (0:20)
• Robot Santa and Sleigh Turnaround (0:21)
• Titanic Spaceliner (0:30)
• Hover Convertible (0:26)
• Buggalo Walk Test (0:14)
• Tornardo Wireframe to Color (0:18)
• Nibbler's Ship Turnaround (0:09)
• VW Van: Wireframe to Final Color (0:33)

The Anthology of Interest II Animatic (22:39) follows the tradition of the first two Futurama DVD boxsets to provide an animatic of a complete episode. Those rough versions are not really pretty to look at, but comparing them to the final version and the early dialogue track without effects or music makes them very much worth watching.

The International Clips are a rather redundant demonstration of Futurama's localisation. A 1:45 minute clip from Amazon Women in the Mood can be watched with alternate English, French, Spanish or Italian soundtrack.

How To Draw Characters provides a short drawing tutorial consisting of several screen pages showing how to bring Leela or Fry on to paper. This is not really a kid-friendly painting lesson, but more about advanced illustration techniques!

The Still Gallery on the last disc has 58 pages of concept drawings, images and other material, which mainly revolve around the new characters that have been added in the third production season. Like the storyboards on the first disc, the image size is not optimal, but everything is still quite well distinguishable.

The last disc has Deleted Scenes for the following episodes:
• Roswell that ends well (1 scenes, 0:17)
• Future Stock (2 scenes, 0:27)
• The 30 % Iron Chef (6 scenes, 1:51)

The last extra is a bit of an advertisement, but thankfully only for Futurama itself: Trailers for the first two season boxsets (1:31 und 1:17) and also for the Futurama Playstation Game (2:09), which had just come out at the time of the DVD release.