The Series
Even since the early days of The Simpsons, 20th Century Fox and Matt Groening always had a difficult relationship that got even worse with his second animated series Futurama. Although Groening and his Co-Producer David X. Cohen had been guaranteed complete artistic control, the television company had found another method to slowly bring Futurama down. After the first two seasons had done relatively well, a bad timeslot and very irregular broadcasts had further diminished the ratings despite a huge fan base.

The Long Death of Futurama

Even during the third broadcast season, Fox had pre-empted Futurama so often that between November 2000 and May 2001 only fifteen episodes were shown. The terror attacks of September 11, 2001 had also shaken up the American television programming so much that Fox only continued to broadcast Futurama in December with two episodes, one of them the delayed Christmas episode from the previous year. In 2002 the snail pace continued with the fourth broadcast season ending after twelve episodes with only four of them actually belonging to the fourth production season.

With so many unbroadcast episodes, Fox was able to extend Futurama into the television season of 2002/2003 with the last sixteen episodes. But the broadcast of this never planned fifth broadcast season went ahead so slowly that there were only four episodes shown until the end of 2002 and the rest until mid-August 2003, most of them in a quick batch during the summer. The broadcasts were so lagging behind that the audio commentaries for the DVDs were actually recorded before the episodes were shown on TV, which was very unusual at that time.

An End or a Beginning?

But even before came the bad news which Matt Groening and David X. Cohen had already expected for more than a year. In May 2003, Fox had released the Fall schedule and Futurama simply was not a part of it anymore. While the series was never officially cancelled, Fox had simply didn't ordere any new episodes. This effectively meant the death sentence for the series and also for a huge part of the production and animation team: Rough Draft was already forced to make layoffs in 2002 and now even the directors and writers were de facto jobless. Many, of course, switched to other projects and quite a few joined the team of The Simpsons, which some had deserted to work on Futurama in the first place.

When the fourth production season was started, the producers already had a feeling that it might be the last. For this reason, only the very best ideas were collected for the eighteen ordered episodes and special care was taken to continue and resolve some stories which had been started in the earlier seasons. It was to be an appropriate ending, but Matt Groening and David X. Cohen had not completely given up hope yet and refused to close the doors on Futurama completley. Instead an open ending was devised that allowed the series a future if there was a continuation someday - which really happened a few years later.

The Best Team of them All

In the fourth production year, the tried and tested core of the Futurama team was retained and complemented only with a handful of newcomers. As usual, David X. Cohen was heading the team of writers and was joined by long-time colleagues Eric Horsted, Eric Kaplan, Ken Keeler, Patrick Verrone, Lewis Morton, Bill Odenkirk, Dan Vebber, Ron Weiner, Aaron Ehasz and Jeff Westbrook. New were David A. Goodman, who had written the brillian Star Trek homage Where No Fan Has Gone Before, as well as Michael Rowe and Kirstin Gore, daughter of former vice president Al Gore, who had been a story editor on Futurama since 2001 and had written her first own episode with the excellent Leela's Homeworld.

The eighteen episodes were headed by altogether eleven directors, which had in part already worked for years on Matt Groening's series. Futurama veterans Peter Avanzino, Brett Haaland, Susie Dietter, James Purdum, Brian Sheesley, Ron Hughart, Patty Shinagawa, Swinton O'Scott and Mark Ervin, who were joined by long-time Simpsons director Wes Archer and the only newcomer Dwayne Carey-Hill. Like the writers, many of them had long careers in animation in between working on Futurama, which surely must have looked excellent on all resumes.

The Grand Finale

The stories of the fourth Futurama season mostly concentrate on the characters and the continuation of previous plots, all without really neglecting the science fiction genre. Nevertheless, the series had become something more than just a simple sf-sitcom, because the Futurama universe had been constantly developed and room was made not only for comedy, but also clever parodies and very personal stories with surprisingly serious overtones. This time, the authors had focused especially on the relationship between the two main characters Fry and Leela, bringing them even closer together in The Sting and the surprisingly emotional series finale The Devil's Hands are Idle Playthings.

The most remarkable episodes of the fourth production season are, however, the 'meta' stories, which focused on the underlying mythology of Futurama. Fry's special place in the big scheme of the series, which had already been hinted at in previous episodes, was now finally explained in The Why of Fry, showing that his journey into the future was much more than just an accident and that the authors had planned a connection to a later story from the very beginning. Like The Luck of the Fryish from the previous season, Jurassic Bark took another emotional look into the past of the delivery boy, while his fate in Spanish Fry lets him be abducted by aliens who are after his nose and then later something much more delicate.

Leelas origins had been a big mystery since the early days of the series and the authors had held back an answer for a special opportunity - which came in the potentially last season of the series. Leela's Homeworld dealt with the question of where Leela came from in a very original way, eschewing mystical science-fiction elements in favour of very human and earthly themes to bring a surprising conclusion to one of the most puzzling riddles of Futurama. Leela also has crucial roles in many other characters and continues to be the voice of reason that has to keep Bender and Fry in check, proving her abilities as a spaceship especially in Love and Rocket.

Robots as far as the Eye can see

While Leela and Fry were now more prominently features than before, their colleague and friend Bender was not far behind. The alcohol-fueled robot was the star of several episodes and while some of them turned out to be the best ones in the history of Futurama, there was one big blunder. Bender's robotic sex change in Bend Her was simply not able to convince with its flat and uninspired plot, but in return his other appearances were all the more remarkable. While his previous love stories had never resulted in the best episodes, his affair with the Planet Express spaceship in Love and Rocket was a welcome change and facing his own mortality and redundancy in Obsoletely Fabulous belongs to the highlights of this season as well as his short television career in the cynical media satire Bender Should Not Be Allowed On TV.

Bender was, however, not the only robot appearing in Futurama by a long shot, because in Crimes of the Hot, a sharp satire about the problems of global warming, the whole robot population of Earth is threatened and in Obsoletely Fabulous he meets a whole collection of strange specimens of his own kind. Television star Calculon returns in Bender Should Not Be Allowed On TV and he even brings his whole entourage including a TV studio with him. Of course many familiar robots from the previous seasons also return - the Robot Mafia even has two appearances in Bender Should Not Be Allowed On TV and Crimes of the Hot and everone's favourite psychotic Knife-Bot Roberto also makes two appearances. Overall, the authors seem to have given every notable Robot of the series a moment of fame.

Planet Express at Full Speed

Professor Farnsworth is, like his Planet Express employees, more or less present in almost all stories and also lives up to his reputation as a mad scientist. His biggest appearances are in the eponymous episode The Farnsworth Parabox and Crimes of the Hot, which again reveals some scandalous details from his past - which, of course, are connected to his nemesis and erstwhile employer Mom. In this episode, she only appears briefly in a flashback, but has larger parts in Obsoletely Fabulous and Three Hundred Big Boys, although she does not have a bigger leading role in this season at all.

While other secondary characters like Hermes did not get stories for themselves in the fourth production season, they are always present and often the subject of well-integrated subplots. One notable exception was Zoidberg, who gets to feel the wrath of the Earthlings in A Taste of Freedom, which also involves the people from his homeworld again invading the Earth this time. Often showing up is also the youngest generation represented by Hermes' son Dwight and Professor Farnsworth' clone Cubert, who make appearances together and on their own in four episodes and often run rings around the adults.

Once again, ensemble stories are also big part of this season. One of the best examples is Three Hundred Big Boys with its genially interconnected short stories, while Fry, Leela and Bender take care of law and order in their own special way as superheroes in Less Than Hero. In Teenage Mutant Leela Hurdles the Planet Express crew takes a whole other shape when not only Professor Farnsworth, but also his employees are drastically rejuvenated. The crew is actually seen less and less in their original job, with the exception of The Sting - an episode which starts as an almost classic delivery-of-the-week plot, but then becomes one of the most remarkable stories of the whole series.

The Captains are on Deck

Futurama is almost impossible to imagine without the chaotic Captain Zapp Brannigan, who fully lives up to his name with altogether four appearances in Kif Gets Knocked Up A Notch, A Taste of Freedom, Where No Fan Has Gone Before and Three Hundred Big Boys. Kif Kroker, personal Lieutenant of the vain Captain, again has to suffer a lot from his boss, but this time the authors had granted him a little bit of happiness in Kif Get Knocked Up A Notch and les him have offsprings together with his girlfriend Amy Wong - although in a somewhat unusual way. This episode was also an opportunity for Amy's parents Leo and Inez Wong to make another appearance and they even show up a second time in Teenage Mutant Leela Hurdles.

In the end, the Futurama producers were also able to fulfill one of their great dreams by making an episode about the science fiction origins of their series: in Where No Fan Has Gone Before Fry is sent on a search for the missing tapes of the original Star Trek series and meets the actors in a scenario worthy of the most famous Star Trek episodes. The concept, which could just have been an empty vessel for the celebrity guests, was turned by the authors into a loving homage to their idols and a gentle satire about the fandom, among which the Futurama creators also count themselves.

Because Fox had only ordered 18 instead of the customary 22 to 24 episodes, the fourth production season unfortunately had no room for the traditional Christmas story or a Anthology of Interest. In return, the authors were able to pull out all the stops with Less Than Hero, a story which under normal circumstances would probably have been just a small part of an Anthology of Interest - but the superhero satire was turned into an amusing romp which coincidentally also addresses the topic of collateral damage caused by the heroes - a concept, which also played a big role in Brad Bird's The Incredibes years after this episode was made

Voices of Space

When the work on the fourth production season began, it already was apparent that it would be the last one of Futurama - but this did not stop the actors and the proved to be absolutely on top of their game. Billy West was very busy with his four main characters Fry, Professor Farnsworth, Dr. Zoidberg and Zapp Brannigan, but he once again showed his enormous vocal versatility by letting each of his roles sound completely different. His co-star Katey Sagal in contrast still exclusively lent Leela her voice, but was able give her even more personality and depth with her excellent voice work. John DiMaggio was able to do the same with Bender and his many other characters, which he all had developed to perfection. Tress MacNeille, Phil LaMarr, Maurice LaMarche, Lauren Tom and David Herrman also returned as the permanent members of the voice cast and revived their multiple characters once more.

The fourth season was also joined by recurring guests Kath Sourcie as Cubert, Bumper Robison as Dwight and also Dawnn Lewis as Hermes' wife Labarbara. Voiceover legend Frank Welker did not only provide Nibblers sounds, but also his talking voice in The Why of Fry and in the same episode, Tom Kenny reprised his role as Fry's older brother Yancy. Phil Hendrie once again appeared as Old Man and Frida from the Waterfall clan in A Taste of Freedom and even Dan Castellanetta came back as the Robot Devil in the very last episode.

Where No Guest Has Gone Before

Real guest stars were still the exception on Futurama, but the fourth season did have some big surprises to offer. For the enchanting female voice of the Planet Express spaceship in Love and Rocket, the producers were able to recruit Sigourney Weaver, who had begun her career with the science fiction classic Alien, but also proved with Galaxy Quest to be a comedian capable of self-irony. Returning for the second time was also former vice-president Al Gore playing himself as the host of the climate conference in Crimes of the Hot, which turned out to be not his last appearance on the show.

The Futurama makers also had another ace up their sleeve: for the wonderful Star Trek homage Where No Fan has Gone Before they got almost the whole original cast. William Shatner, Leonard Nimoy, Nichelle Nichols, Walter Koenig and George Takei all recorded their parts, only James Doohan was missing probably due to health problems and had been replaced by another generic character. DeForest Kelley, who had passed away in 1999, was actually present but his character had no lines - but ten years after their last joint appearance, Futurama had made a very special kind of of reunion of the Enterprise crew possible. While the episode was very ironic and full of satire, it nevertheless treated Star Trek itself with a lot of respect and admiration.

Future Visions

Even since the very first episode, Futurama was able to dazzle with a very detailed any playful look that took Matt Groening's unique style perfectly into the 31st century. At first, the animation was not too elaborate, but ever since the second season the backgrounds became more and more sophisticated and added something new in almost every episode. The animation proved to be enormously versatile and thanks to the many new and expanded scenarios there was no limits to the creativity of the designers. Rough Draft Animations also made sure that the traditional, two-dimensional work was seamlessy joined by the computer-generated 3D models and sequences, which were used more often for breathtaking space sequences, but also for relatively unassuming shots and camera movements.

After three seasons, series house composer Christopher Tyng had created something of a very distinctive Futurama sound. The mix of at the same time futuristic and retro synthesizer sounds and a bombastic orchestral score was a huge effort for an animated series and made many episodes not only visually interesting. The now old-established title music was, of course, still in use, but was at times replaced by experimental alternatives - among them a 'human beatbox' version, which was recorded by Billy West and John DiMaggio for fun. The musical highlight of this season and even the whole series so far was, however, the very last episode The Devil's Hands are Idle Playthings, in which Fry not only tries to lean a futuristic wind instrument, but also composes and performs a whole opera, which was impressively set into scene in the last third of the episode, making the finale of the series very special.

The Big Goodbye

Even though they were the potentially last Futurama episodes ever, the producers still made an amazing effort to make the eighteen stories of the fourth production season the best of the whole series - and they almost completely succeeded. When the finale The Devil's Hands are Idle Playthings was shown on August 10, 2003, it was the last new Futurama episode shown for a very long time because then nobody could imagine that the series would be revived someday.

Compared to Matt Groening's other series, The Simpsons, 72 episodes were a comparatively small heritage, but even before the last episode was broadcast on Fox, Cartoon Network had begun the reruns, which later switched to Comedy Central. Together with the enormously successful DVD releases, the repeats resulted in a Futurama revival in the shape of four movies, which were first released on DVD and then shown on Comedy Central as separate episodes. The good ratings and sales figures inspired the channel to order more episodes and between 2010 and 2013 four more seasons with altogether 52 episodes were made. It has now been almost seventeen years since the first episode of Futurama was broadcast and the series is yet again on indefinite hiatus - but it will probably come back someday again.


The Episodes
Kif Gets Knocked Up a Notch - Amy and Kif are awaiting unplanned offsprings, but because of certain characteristics of Kif' species, it's not Amy who will actually be carrying the babies…
Leela's Homeworld - Professor Farnsworth has a toxic waste problem with one of his new inventions and orders Bender to get rid of the glowing mess - who just dumps it all into the sewers and even makes a business out of it. But when the underworld of New New York is being more and more filled with trash and waste, its mutant citizens kidnap Bender, Fry and Leela, which leads to Leela making an astonishing discovery about her origins.
Love and Rocket - The Planet Express crew has trouble with the artificial intelligence of the spaceship and Professor Farnsworth installs an upgrade with a female personality. Bender is so taken with the new program that he falls in love with the spaceship…
Less than Hero - Dr. Zoidberg prescribes a wonder cream for the crew, which gives Fry and Leela superpowers. Together with Bender, they form the New Justice Team and go out in the disguise of Captain Yesterday, Clobberella and Superking to fight crime - but not without consequences...
A Taste of Freedom - When the Earth celebrates Freedom Day, Doctor Zoidberg takes the freedom one step too far and eats the global flag in front of President Nixon and Captain Zapp Brannigan, making him a fugitive who has to flee to his home planet's embassy…
Bender Should Not Be Allowed on TV - When the popular soap opera All My Circuits makes a casting call for the role of Calculon's son, Bender applies and, to everyone's surpise, actually wins. But his brash behaviour results in both protest and an enormous success...
Jurassic Bark - Fry discovers that the pizzeria he worked at in 1999 has been found during excavations, even his faithful dog Seymour is being shown as an museum exhibit. But when Fry wants to clone him with the help of Professor Farnsworth, Bender gets unexpectedly jealous...
Crimes of the Hot - To keep global warming in check, a huge chunk of ice is being dunked into the world's oceans, an assignment which is given to Planet Express by President Nixon. But when the purveyor of the ice, a comet, turns out to be completely depleted, Earth scientists have to find an new method to keep the planet from heating up - and Professor Farnsworth reveals that his robot prototypes are the actual cause for global warming….
Teenage Mutant Leela's Hurdles - During an attempt to freshen up Professor Farnsworth at a rejuvenation clinic, the whole crew is accidentially being transformed into teenagers again. While the Professor is working on an antidote, the crew is enjoying their second youth, but then unexpected problems come up…
The Why of Fry - Fry is depressed because he feels he is no good at anything and Leela's new boyfriend, the mayor's aide, does not make things better for him. But just when he is most desparate, he is told that he does have a purpose after all...
Where No Fan Has Gone Before - To his great horror, Fry discovers that Star Trek is forbidden in the 31st century and all episodes and movies have been outcast to the planet Omega 3. In the head museum, Fry convinces Leonard Nimoy to accompany him on a quest to look for his missing co-stars and the episodes...
The Sting - Professor Farnsworth really doesn't want to send his current crew on the same mission that killed his last one, but Leelas pride wins and she pressures Fry and Bender to accompany her getting honey from dangerous space bees. But during a confrontation with the hostile insects, Fry is accidentially killed and Leela is besides herself with grief...
Bend Her - Professor Farnsworth and his crew are accompanying Hermes to the Olympic Games, where the bureaucrat tries to compete in 500-meter-limbo, Bender would like to take part in the robot categories, but he finds the competition too dangerous - except the female robots and so he pretends to be a fembot and wins some medals. But to pass the doping test, he needs some modifications…
Obsoletely Fabulous - When the Professor buys the latest product of Mom's Friendly Robot Company, a small, but nimble household robot that can do anything, Bender suddenly feels so obsolete around the office that he decides to get a compatibility upgrade. But in the last moment, he flees and does not have the courage to go back to his friends, so he builds a boat and reaches and island full of obsolete robots...
The Farnsworth Parabox - Professor Farnsworth tells his crew to destroy the results of a failed experiment by throwing it into the sun: a very ordinary cardboard box into which they are forbidden to look. But Leela cannot resist the temptation and opens it, only to fall in and arrive in a parallel universe...
Three Hundred Big Boys - After a military conquest over an alien planet that brought a lot of loot, President Nixon gives a tax rebate of 300 dollars to each Earth citizen and the Planet Express crew is wondering what to do with the unexpected money…
Spanish Fry - During a camping trip, Fry is being abducted by aliens who steal his nose. Together with his friends he finds out that his breathing organ was taken by hunters who look for human horn, which is supposed to be a powerful aphrodisiac. The buyer of his nose turns out to be none other than Lrr, the ruler of Omicron Persiei 8…
The Devil's Hands Are Idle Playthings - To win Leela's love, Fry wants to learn to play the holophoner, but despite many music lessons, he fails to master the instrument. But Bender has the idea to make a literal deal with the robot devil to get his friend a pair of more capable hands...


The DVD
The fourth Futurama production season was released on DVD in England only five months after the previous boxset in November 2003, more than six Months earlier than in the US and even a whole year before the German release. The set contains the slightly shorter fourth production season with all the episodes broadcast in the US as season four and five - in the order originally scheduled by the producers.

The packaging consisted again of four separate keep cases in a cardboard box with a plastic sleeve, all with large-format drawings from Matt Groeing. The season four box even has a nice surprise: the cardboard box itself has cool blueprint drawings of the images on the sleeve which glow in the dark - a great idea which makes up for the absence of a Digipack like on the Simpsons releases.

The box reviewed in this article is the first British release, which I had imported from England because of the late release dates of the US and German editions. The DVDs are actually identical to the later re-releases, which only differ in packaging.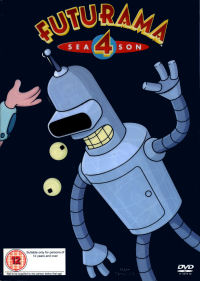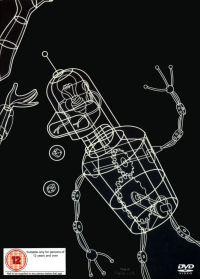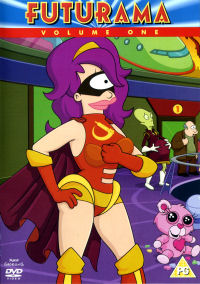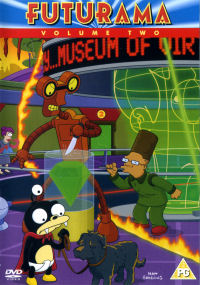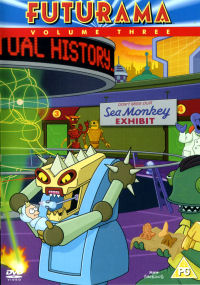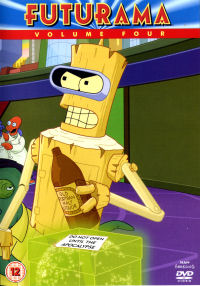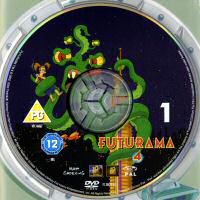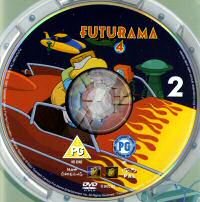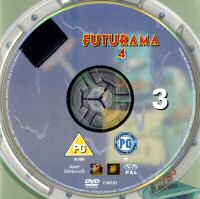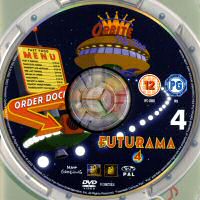 Extras
The fourth Futurama box set once again relies on the patented mix of very entertaining audio commentaries, storyboards, deleted scenes and even more material for its bonus materials. The menus are very playful and almost an extra in itself - there is a lot to see in the detailed designs.

All episodes again have Audio Commentaries with Matt Groening, David X. Cohen and a changing cast of directors, authors and animators from each episode, who are sometimes joined by voice actors Billy West, John DiMaggio, Tress MacNeille and Maurice LaMarr. The commentaries are always at least as entertaining and funny as the episodes themselves and the high amount of information makes a full documentary accompanying the series completely unnecessary. Of course there is again much laughter and none of the participants are serious all the time, but this is simply the nature of the Futurama commentary tracks that they share with the Simpsons. There are not too many technical details, but the storytelling is often a big topic that is never neglected. The episode Jurassic Bark actually has a second bonus commentary because the first one somewhat derailed a bit.

Disc 1

The International Clip (1:25) has a short scene from Love and Rocket with alternate soundtracks in English, German, Portugese and Spanish.

There are also complete Storyboards of Kif Gets Knocked Up A Notch on this disc, but they unfortunately have such a bad image quality that they are very hard to make out.

Deleted Scenes are included for the following episodes:
• Kif Gets Knocked Up a Notch (3:02, 11 scenes)
• Leelas Homeworld (1:07, 3 scenes)
• Love and Rocket (0:13, 1 scenes)
• Less than Hero (0:19, 1 scenes)
• A Taste of Freedom (0:44, 2 scenes)

Disc 2

Three of five episodes on this disc have Deleted Scenes:
• Crimes of the Hot (0:19, 1 scene)
• Teenage Mutant Leela's Hurdles (0:45, 3 scenes)
• The Why of Fry (0:24, 1 scene)

Disc 3

There has been a complete Animatic on each of the previous Futurama boxsets and this season follows that up with Obsoletely Fabulous (24:30) in an early rough version.

There is also a short Easter Egg (2:54) on this disc, in which writer David Goodman and Bender's voice John DiMaggio make a short appearance.

All five episodes on this disc have Deleted Scenes:
• Where No Fan Has Gone Before (0:08, 1 scene)
• The Sting (1:35, 5 scenes)
• Bend Her (0:50, 3 scenes)
• Obsoletely Fabulous (1:04, 4 scenes)

Disc 4

The best extra from this disc is actually an Easter Egg - a complete Table Reading (34:32) of the final episode The Devil's Hands Are Idle Playthings in shape of an audio recording. The quality is not perfect, but it is very fun to listen to.

There are eleven 3D Models from Rough Draft with brief commentaries by the animators as very short video clips included.

How to Draw Characters shows on a couple of menu pages how to draw Bender and Professor Farnsworth, which is not as easy as it looks.

The Character Pencil Tests of Bender, Leela, Kif, Zapp, Professor Farnsworth, Zoidberg, Fry, Amy and others are rough test animations, but nevertheless fascinating to watch.

Still Gallery / New Character Artwork contains 53 pages of concept drawings and other images, which lack a bit in size and quality, but are still entertaining to look at.

The last disc also has a couple of Deleted Scenes:
• The Farnsworth Parabox (0:40, 3 scenes)
• Three Hundred Big Boys (0:54, 3 scenes)
• Spanish Fry (1:10, 3 scenes)
• The Devil's hands are idle Playthings (4 scenes, 1:22)

The boxset finishes with some commercials, but only for Futurama itself: there are Trailers for the first three DVD boxsets and for the Playstation game.